List of recipes using "Creamy sauce":
12 recipes
List of recipes using "Creamy sauce"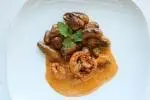 The langoustines in this recipe are cooked in two stages: boiled briefly in salted water, then sautéed before being spiced and flambéed in cognac. They are served here with a creamy sauce and potato grenaille.
29K
5
1 hour 9 min. October 12
th
2016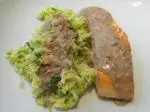 In this recipe a salmon steak is accompanied with blanched white cabbage and a rich sherry vinegar sauce.
98K
4.5
1 hour 2 min. January 3
rd
2014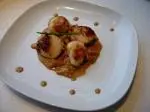 The chanterelles are fried first briefly, then the scallops fried in the same pan. The pan is deglazed with Noilly to make a delicious cream sauce.
203K
4.5
1 hour 6 min. November 28
th
2010

Mussels and pasta cooked separately, then combined in a cream sauce made with the reduced mussel juices.
134K
4.1
1 hour 40 min. September 14
th
2011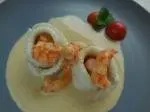 The turban is made from a rolled fillet of sole poached in fish stock. Each turban is then filled with sautéed langoustines and a tasty cream sauce, flavoured with langoustine stock. This dish takes quite a long time to make because of the langoustine stock, but you will really impress your guests.
67K
4.1
1 hour 44 min. November 23
th
2014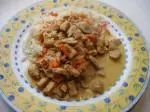 Blanquette is a classic dish of French family cooking, but can also be found in bistros. Veal is cooked slowly, and the sauce is thickened with a mixture of egg yolks and cream. I have set out a rather special way of making it.
386K
4.4
2 hours 49 min. February 5
th
2015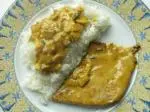 Escalopes of veal, mushrooms and a cream sauce.
226K
4.5
1 hour 3 min. March 20
th
2011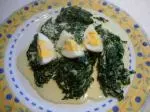 Fresh spinach, simply wilted, reheated in a sauce of thickened cream with shallot, and served with quarters of hard-boiled egg.
311K
3.8
1 hour 43 min. September 29
th
2012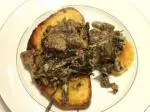 This is a French version of mushrooms on toast! The mushrooms are simmered in cream then served on a slice of fried buttered bread.
192K
3.8
2 hours 5 min. April 6
th
2017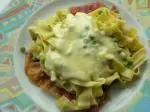 Pasta served like in NYC: tagliatelle or spaghetti with lightly fried ham, peas and a nutmeg-flavoured cream sauce.
77K
4.3
46 min. July 1
st
2013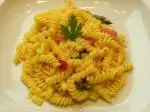 In this recipe, the pasta is cooked separately, then mixed with chunks of green asparagus, ribbons of smoked ham and a cream sauce with nutmeg.
76K
3.9
1 hour 8 min. July 21
th
2013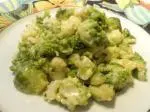 Four kinds of brassicas (Brussels sprouts, cauliflower, romanesco and broccoli), blanched separately, then combined to finish with cream and chopped parsley.
122K
4.6
2 hours 41 min. January 16
th
2013