List of recipes using "Creme":
12 recipes

Salmon with sorrel is the perfect mix with tender salmon and the slight acidity of sorrel.
80,775 1
5/5 for 13 ratings 1 hour 23 min.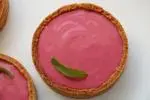 These little tarts taste every bit as good as they look. The sweetcrust pastry cases are filled with a layer of stewed apple and topped with a blackcurrant crémeux. This offers your guests a delightful element of surprise, as the apple flavour is only discovered as they eat it (but only if you've...
1,143 2 hours 8 min.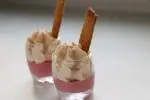 Blackcurrants and chestnuts and go together really well, as the tang of the one balances the gentle sweetness of the other. Here they are combined in a verrrine, with a blackcurrant crémeux and chestnut mousse, served with a little sablé biscuit.
1,093 1 hour 9 min.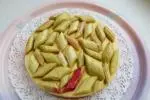 This rhubarb and apple tart is given a Breton twist with a base of traditional, butter-rich, sablé biscuit. This is topped with an apple "crémeux" filling. The finishing touch is a layer of rhubarb, cut on the diagonal and oven-poached in a syrup of its own juice.
3,024
5/5 for 1 ratings 1 hour 44 min.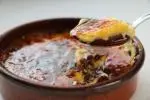 This crème brûlée recipe is a sophisticated combination in three layers: chocolate ganache, vanilla custard, and, of course, a delicious thin crust of caramel. It is more complicated than a simple chocolate crème brûlée, but well worth the effort when you see your guests' reactions.
8,893
5/5 for 1 ratings 1 hour 59 min.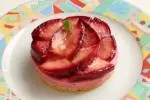 Superb little tarts, bursting with summer flavours: a Breton sablé base, a blackcurrant crémeux, and topped with slices of vineyard (or blood) peaches, every bit as delicious as they are colourful..
1,204 4 hours 19 min.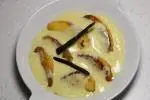 Apples sautéed in butter and sugar, then flambéed in Calvados (from Normandy) and served with real custard.
5,079
1/5 for 1 ratings 38 min.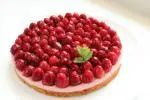 This gorgeous and delicious rasperry tart is not just any old fruit tart: the base is made with "sablé breton" dough, topped with a raspberry crémeux and a layer of whole fresh raspberries, finished with a glaze. It's a bit more complicated than a normal tart, but the result is well worth the...
4,776
5/5 for 1 ratings 1 hour 41 min.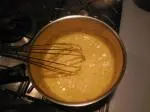 For this strongly apple-flavoured version of confectioner's custard (crème pâtissière, or french pastry cream), apple juice is used instead of milk and the quantity of sugar is reduced.
15,071
4.6/5 for 11 ratings 21 min.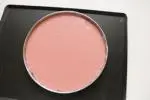 This kind of "crémeux" (it means "creamy", but contains no actual cream) is a basic recipe in the repertoire of French pastry chefs. It is smoother but less frothy than a mousse and uses gelatin to set it as it cools. Often used as a tart filling or in other desserts, crémeux is usually poured to...
23,496
5/5 for 2 ratings 40 min.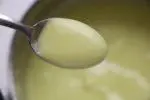 This "crémeux" is a creamy mixture ideal for filling tarts, either on its own or as a bottom layer topped with fruit, for example.
692 46 min.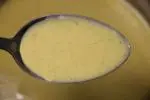 Real custard or vanilla sauce consists of egg yolks beaten with sugar and cooked slowly in vanilla milk. It is the base or the accompaniment for many desserts.
120,947 2
4.3/5 for 4 ratings 44 min.