List of recipes using "Fine":
8 recipes

Fried rounds of courgette in a puff pastry case with a feta and mint filling. You will find that this combination of feta with mint gives an agreeable fresh lift to this tart.
43,901
4.1/5 for 16 ratings 1 hour 23 min.

It is quite easy to make your own garlic and herb cream cheese, rather like the well-know Boursin. It's fresh, much better, of course, and delicious, especially with a piece of toast.
39,325
3.9/5 for 12 ratings 35 min.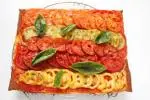 This simple but very elegant tart makes the most of different tomato varieties. Their diversity allows us to create a multi-coloured tart, featuring all their attractive shades.
1,652 59 min.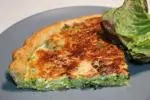 This is a quiche-style tart with a Piedmont-inspired twist: the filling is made with eggs, mascarpone (lighter than the usual cream) and Parmesan. The tart still has a moist texture to balance the puff-pastry crust, with the flavour of leeks and purple artichokes.
4,195
5/5 for 13 ratings 1 hour 25 min.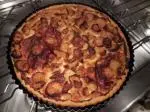 This savoury tart is full of flavour: the thin puff-pastry case is filled with lightly grilled slices of ham and a mixture of cream and Époisses cheese, topped with a layer of oven-cooked shallot confit. This tart can be eated hot, of course, but is also good cold or reheated until just warmed...
4,971
4.6/5 for 14 ratings 2 hours 25 min.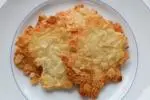 These delicious little biscuits ("tiles" in French) get their crunch and lightness from the use of flaked almonds rather than ground. It is not difficult to succeed, you just need to work fast after taking them out of the oven.
95,772
5/5 for 1 ratings 1 hour 18 min.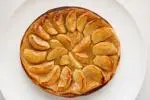 A fine apple tart, very quick to make.
68,444 2
4.6/5 for 14 ratings 54 min.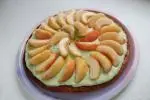 In French, a "feuilleté" can be anything, sweet or savoury, wrapped in or with a base of puff pastry, from a sausage roll to a millefeuille. This is an elegant tart-style feuilleté with a caramelized pastry base, topped with a light custard flavoured with verbena. This is based on a confectioner's...
3,397
4.1/5 for 16 ratings 2 hours 23 min.