List of recipes using "Grated cheese":
6 recipes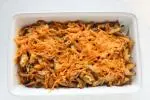 This is a very simple gratin, mainly using leftovers (chicken and rice), ideal for a Sunday night supper.
4,123
3.8/5 for 19 ratings 52 min.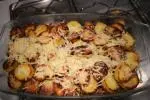 Here, a potato gratin meets hachis Parmentier (minced beef topped with mashed potato): 2 layers of potato around a layer of pre-cooked minced meat.
5,670
3.6/5 for 5 ratings 1 hour 22 min.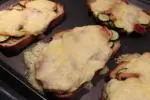 These toasted slices are topped with sautéed vegetables (courgette and mushrooms), covered with a slice of smoked ham and then slivers of cheese. Once the cheese is melted and browned in the oven, the slices should be served piping hot.
3,904
4.7/5 for 19 ratings 58 min.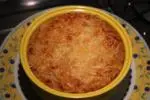 "Parmentier", in French cuisine, means topped or mixed with mashed potato. This fishy version is made with pollack (or another fish, if you prefer), poached, flaked, and mixed with cooked onions, mashed potatoes and a little thyme. This is then topped with grated cheese and browned in the oven,...
4,531
4.8/5 for 12 ratings 56 min.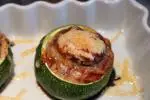 This is a relatively rapid way to prepare stuffed courgettes, using ready-made items that you can take out of the fridge or freezer at the last minute (or nearly).
4,848
4.4/5 for 19 ratings 1 hour 6 min.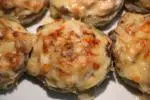 For this recipe we'll attempt to use the whole of the artichoke: the heart, of course, but also the leaf bases in bechamel sauce with mushrooms and shallots, as a tasty filling for the hearts.
4,802
5/5 for 13 ratings 1 hour 33 min.