List of recipes using "Nougatine":
2 recipes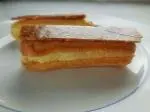 A Valay-Brest is a mini eclair, filled with apple-flavoured confectioner's custard and topped with a rectangle of walnut nougatine.
13,153
4.1/5 for 19 ratings 1 hour 28 min.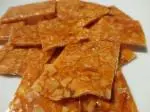 Nougatine is a delicious nut toffee: caramel mixed with toasted flaked almonds. Not a dessert in itself, it is often used to decorate cakes and pastries. But those who enjoy good things are sure to want to eat it on its own!
24,977
3.5/5 for 6 ratings 32 min.