List of recipes using "Oatmeal":
1 recipes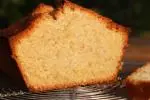 This cake has the distinctive and delicious flavour of old-fashioned rolled oats, also known as oatmeal. In the basic cake recipe, part of the flour is replaced with oats, which have been toasted, then blended.
4,523 2
4.2/5 for 13 ratings 1 hour 8 min.