List of recipes using "Ratatouille":
3 recipes

"Rata-tart" is a tart filled with ratatouille and polenta. The layer of polenta in the bottom separates the pastry from the ratatouille and so keeps it crisp.
16,006
4.5/5 for 10 ratings 1 hour 15 min.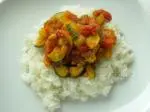 Ratatouille is a typical Mediterranean dish. The best-known version comes from Nice. It is a ragout of different vegetables (aubergines, peppers, courgettes, onions) in a tomato sauce.
20,969
5/5 for 13 ratings 1 hour 52 min.

It's a hotch-potch of vegetables, cooked in two stages, onto which eggs are broken and cooked until the white only is just firm.
70,635
5/5 for 13 ratings 1 hour 3 min.