List of recipes using "Savoury":
4 recipes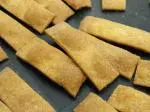 These crisp savoury biscuits are ideal for dipping into a sauce as an aperitif snack. It is quite easy to make your own crackers at home and they are much healthier and even more delicious than the commercial kind.
25,087
5/5 for 14 ratings 1 hour 38 min.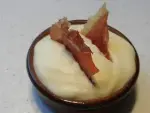 This is a rather tricky recipe in which foie gras is used to make a savoury cream, similar to a crème brulée but - of course - without sugar and without caramelizing the top. Instead, it is topped with an espuma (a light hot foam) of potatoes, garnished with crispy morsels of serrano ham.
31,134
3.8/5 for 11 ratings 3 hours 33 min.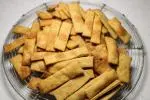 These are delicious little aperitif biscuits, really crisp and with the full-on flavour of pesto. They can be eaten on their own with dips, such as hot tomato or houmous.
4,604
4.1/5 for 18 ratings 1 hour 41 min.

This loaf is a savoury cake (quite popular in France) made with tinned tuna and leeks that have been lightly cooked with shallot.
50,989
4.4/5 for 12 ratings 1 hour 18 min.