List of recipes using "Sweets":
8 recipes
List of recipes using "Sweets"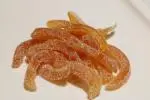 Not really a dessert, more a kind of sweet. After soakiing, strips of grapefruit skin are cooked very slowly to conservethem in sugar. It's a real treat with coffee at the end of a meal.
317K
1
4
1 day 1 hour 21 min. December 20
th
2018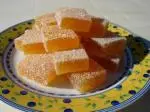 Usually to make fruit jellies or (fruit "paste"), it's like jam but you need to cook fruit pulp and sugar much longer. Unfortunately, this long cooking is bad for both vitamins and flavour. In this recipe we use a special jam gelling agent, to reduce cooking time as much as possible .
299K
4
2 hours 30 min. July 4
th
2018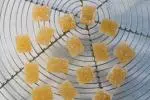 This traditional French "pâte de fruit" (fruit paste or leather) has a distinctive, firm consistency and is full of flavour, with the characteristic tang of quince. The preparation is rather long, but the result is well worth all the effort.
25K
1
2 hours 3 min. December 3
rd
2017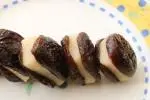 Stuffed prunes are a sweetmeat made with halved dried prunes sandwiched together around a morsel of marzipan flavoured with Armagnac.
19K
20 min. July 18
th
2018

These delicious nuts can be used in several cakes, but you can also put them on ice-cream, pancakes, fruit salad, or eat them just as they are.
326K
5
22 min. February 21
th
2011

Similar to marzipan or walnut paste, coconut paste can be used in a variety of cake or sweet recipes, but you can enjoy munching it just as it is.
250K
1
4.7
15 min. October 13
th
2010

Pistachio paste has a similar texture to almond paste, but the similarity ends there, as its flavour and colour are quite characteristic.
313K
15
3.8
48 min. October 13
th
2010

Royal icing is a mixture of egg white and icing sugar. From its pasty consistency when fresh, it dries to give a lovely white crust.
169K
4.7
13 min. February 12
th
2012