List of recipes using "Breakast":
1 recipes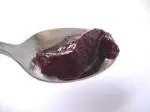 Fruit jelly is jam made with the juice only. All the skin and seeds are strained out, which gives a very smooth texture. Here's a quick recipe which will give you an excellent jelly, and which keeps the full flavour of the blackberries thanks to its very brief cooking.
50,751
4.3/5 for 18 ratings 47 min.