List of recipes using "Cottage cheese":
3 recipes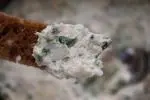 In French, this curious name means "silk-weaver's brain", but don't be alarmed, this tasty "brain" consists of cottage cheese mixed with herbs, vinegar and finely chopped shallots. The Canuts were the silk weavers in the area around Lyon, France. In the nineteenth century this was one of their...
3,919
1 hour 21 min. August 1
st
2021

Little verrines filled with a mixture of cottage cheese (fromage blanc), cream and coriander with diced radish, gherkin and shallot.
115K
2
4.8
41 min. November 24
th
2011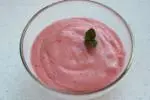 Here is a refreshing and very quick recipe (if your fruit is already prepared). In just a few seconds you can enjoy a delicious frozen cream cheese and strawberry dessert, with no need for an ice-cream maker.
27K
13 min. April 24
th
2019