List of recipes using "Millefeuille":
4 recipes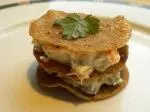 Little savoury "millefeuilles" with a very Breton taste of the sea: a mix of crab and salmon in a herb mayonnaise, piled up between crisp circles of buckwheat pancake.
23,787
5/5 for 10 ratings 48 min.

Millefeuille is one of the best pastries available, if it is well made, i.e.: 2 layers of light vanilla cream between 3 layers of fine crispy (possibly caramelized) puff pastry.
85,981
4.6/5 for 5 ratings 1 hour 42 min.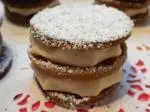 These dainty and delicious mini millefeuilles have layers of puff pastry filled with lemon confectioner's custard (pastry cream). They are a bit tricky because they are quite fragile and do not keep well once assembled. But freshly made, they are a true delight.
3,171 2 hours 22 min.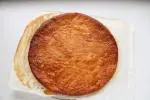 When puff pastry is caramelized to use in patisseries like millefeuille, French chefs call it a "feuilletage" (which means "lamination" or "leafing"). This is baked on its own before being assembled with cream, fruit, etc. The baking needs to be carefully managed: the pastry should puff into layers,...
6,716
5/5 for 19 ratings 36 min.