List of recipes using "Thai":
3 recipes

Vegetables cut in small dice, cooked in stages, and mixed with cooked Thaï rice. Delicious alone or served with meat for example.
76,803
4.7/5 for 11 ratings 1 hour 34 min.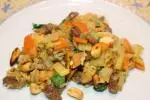 This sautéed pork has a hint of Thai style, with its accompaniment of chopped vegetables, dry-roasted peanuts and soy sauce.
6,757
3.9/5 for 18 ratings 55 min.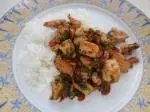 This Thai-inspired recipe combines diced chicken with cashew nuts, spring onions, herbs and a lime-soy sauce.
9,333
5/5 for 13 ratings 24 min.