List of recipes using "Slad":
2 recipes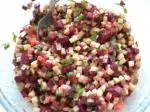 For this fun salad, all the ingredients are cut into small dice, hence the name.
13,864
4.3/5 for 15 ratings 49 min.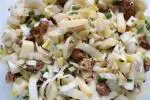 This starts out as a classic salad of shredded endives, but is pepped up with sliced spring onions, fried croutons and chunks of cheese.
2,088 31 min.