List of recipes using "époisse cheese":
1 recipes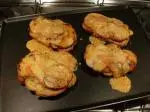 Lightly buttered bread, a slurp of dry white wine, cured ham, sliced potato and a piece of Epoisse. A few minutes in the oven is enough to melt the cheese over the potatoes and crisp up the bread.
51,931 2
4.1/5 for 16 ratings 1 hour 26 min.