List of recipes using "Test":
2 recipes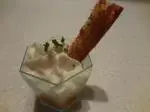 This sophisticated, smoky flavoured starter consists of an egg yolk, heated in a bain-marie and a smoked cream mousse with a scattering of chives, served with a buttered-toast "soldier".
11,386
4.9/5 for 12 ratings 12 hours 30 min.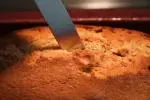 It's a frequently asked question and it's not so easy to answer it, especially for beginners: you can have a cake that's nice and golden brown outside, but which is not cooked enough in the middle.
15,925
4.3/5 for 15 ratings 1 min.