List of recipes using "Layers":
6 recipes
List of recipes using "Layers"

In this colourful terrine, layers of avocado alternate with smoked salmon and diced tomato in balsamic vinegar.
149K
5
4 hours 7 min. April 10
th
2011

It's a recipe where you make 4 layers of different creams in a small glass: vanilla cream, small dice of pear cooked in maple syrup, chocolate mousse and whipped cream. It should be served to your guests cool but not too cold .
231K
3.8
1 hour 47 min. February 21
th
2011

Vanilla-lime, confectioner's custard and blackcurrant coulis, topped with a layer of whipped cream (chantilly) and dusted with a little matcha green tea powder. Light and flavoursome.
166K
4.9
1 hour 9 min. September 12
th
2010

A little dessert that's rather long to make, but which will always impress your guests. Layered in a glass: a jellied red fruit coulis, a layer of pineapple charlotte cream, a layer of kiwi coulis, topped with a peeled clementine segment. It's "european" because it resembles the italian flag, and in...
206K
5
2 hours 29 min. August 15
th
2010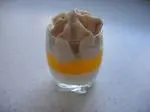 This is a fresh-flavoured verrine with 3 different flavoured layers: vanilla panna cotta, clementine and chestnut mousse.
152K
1
5
25 min. March 5
th
2012

Puff pastry is an incredible assembly of thin layers of butter enclosed in thin layers of dough. After cooking this give a succession of thin crisp pastry leaves that produce exceptional desserts or pies. It's a jewel of French patisserie. Making your own puff pastry is not very difficult, it's just...
390K
6
4
2 hours 45 min. January 19
th
2011