List of recipes using "Panna cotta":
5 recipes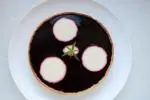 Balckberries and almonds go so well together: the slight tartness of the berries is the perfect foil for the sweeter almonds. This combination makes for a delicious tart. The sweetcrust pastry case is filled with a blackberry jelly and an almond panna cotta, presented in a bold and unusual way as a...
1,610 3 hours 46 min.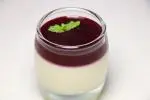 These light and flavoursome lemon creams are "set" by the curdling action of the lemon juice on the heated cream, so no thickening agent is needed. They are served in individual glasses, topped with a layer of fruit coulis (blackcurrant here).
4,357
4.1/5 for 16 ratings 41 min.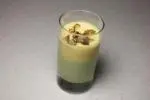 In this dessert, the pistachio panna cotta is teamed with real vanilla custard and topped with a few caramelised pistachios.
5,429 2
5/5 for 1 ratings 3 hours 12 min.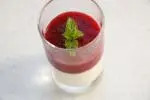 The combination of plums and almonds is always a winner. Here's a version that uses almonds to make a delicious panna cotta with a difference.
1,946 3 hours 25 min.

Panna cotta is an Italian dessert which means "cooked cream". It's a set vanilla cream, similar to blancmange, which is frequently served with other things like fruit coulis (fruit purée), caramel etc.. Here is the basic panna cotta recipe.
79,548
4.3/5 for 9 ratings 25 min.