List of recipes using "Brussels sprouts":
5 recipes
List of recipes using "Brussels sprouts"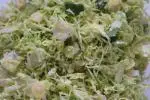 It might seem unlikely, but Brussels sprouts are very good raw, like in this salad, pepped up with lemon and Parmesan.
10K
32 min. March 28
th
2021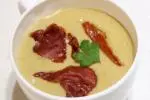 The method for this rustic winter soup is anything but typical: the sprouts are first roasted in the oven, before being mixed with the leeks (pre-cooked with onions) and simmered in chicken stock. Served with morsels of crispy ham, the full-on flavour is sure to hit the mark.
12K
1 hour 29 min. January 17
th
2021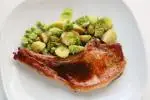 In this recipe, the pork chops are pan-fried and served with a sauce of the reduced pan juices and white-wine, and two different brassicas: Brussels sprouts and romanesco.
35K
4.3
46 min. November 20
th
2016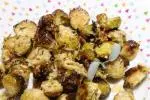 This makes a change from the usual ways of cooking sprouts: oven-roasted with sage and lemon, topped with grated Parmesan. They can be served as the main feature, or to accompany meat, for example.
11K
1 hour 4 min. February 3
rd
2021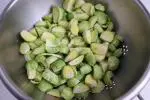 Brussels sprouts are delicious. On this site you'll find many recipes that use these versatile vegetables. Here is all you need to know about preparing and cooking them.
6,140
40 min. February 6
th
2022