List of recipes using "à la française":
2 recipes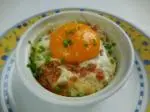 Eggs cooked in small ramekins with a tasty mix of peas, bacon, onion and cream - even more French than the classic version!
16,288
4.6/5 for 14 ratings 31 min.

A traditional French recipe, "Petis pois à la Française", with a personal twist, but very easy to prepare. It is an ideal accompaniment for meat, poultry or even a grilled fillet of fish.
23,178
3.8/5 for 17 ratings 28 min.