List of recipes using "Sesame":
10 recipes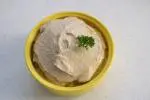 Houmous (or hummus or homos), is one of the famous and delicious lebanese "mézzés".
89,303
5/5 for 2 ratings 16 min.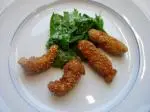 Scampi, coated with a sesame crust, fried quickly, and served with a herb salad.
94,397
5/5 for 1 ratings 33 min.

For this quick soup, 15 minutes, an original turnip taste with sesame purée (tahina).
81,252
4.3/5 for 19 ratings 35 min.

Fish portions cooked in 2 stages: first in the pan, then in the oven, covered with a sesame paste which turns crisp when baked.
32,862
4.4/5 for 12 ratings 42 min.

A salmon fillet, grilled slowly to keep the inside tender, served with sesame rice and a little corn salad cream. You'll love it...
68,471 1
3.9/5 for 7 ratings 1 hour 14 min.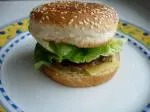 Hamburgers don't have to be the greasy flabby things you find in fast-food outlets, well-made they can be excellent. It's a very convivial recipe as everything goes on the table, and everyone assembles their own burger according to personal taste.
86,531
4.8/5 for 20 ratings 33 min.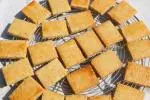 These soft little cookies have a double whammy of sesame flavour from toasted seeds combined with a little sesame oil.
571 2 hours 57 min.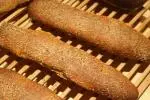 This bread is so-called because its magical sesame flavour is non-negotiable! The triple dose comes from tahini (sesame paste), sesame oil added to the dough before kneading, and toasted sesame seeds both in the dough and on top of the loaves. The texture is soft, rather like ciabatta, but with a...
3,478 4 hours 23 min.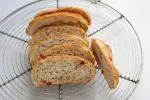 These tasty little rolls are enriched with bacon bits and toasted sesame seeds. The slightly flaky texture comes from lard, folded in like for puff pastry. Served sliced, these make an ideal savoury snack to share with friends over a drink.
3,714
4.6/5 for 14 ratings 3 hours 38 min.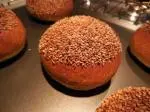 This new recipe shows you how to make hamburger buns that are almost brioche style without being sweet.
12,411
4/5 for 12 ratings 3 hours 59 min.