List of recipes using "Blackberry":
1 recipes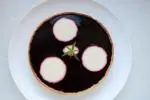 Balckberries and almonds go so well together: the slight tartness of the berries is the perfect foil for the sweeter almonds. This combination makes for a delicious tart. The sweetcrust pastry case is filled with a blackberry jelly and an almond panna cotta, presented in a bold and unusual way as a...
1,212 3 hours 46 min.