List of recipes using "Croutons":
11 recipes
List of recipes using "Croutons"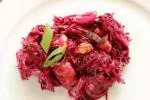 This pink — almost hot pink — salad gets its colour from the raw beetroot, teamed here with toasted cashew nuts and fried croutons.
17K
5
32 min. July 29
th
2018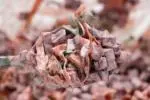 Beetroot salad is a well-known classic, but have you come across the "bistro" version? The beetroot is still diced, but raw and served with croutons and fried ham in a rémoulade dressing.
18K
38 min. December 30
th
2019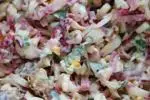 Have you tried red Belgian endives? They are similar in size to the more common white sort, just as crunchy, but slightly less bitter. They are the main feature in this salad inspired by French bistro cuisine: combined with chopped hard-boiled eggs, fried ham and croutons, in a rémoulade dressing.
14K
29 min. March 11
th
2020

Corn salad (or lamb's lettuce) leaves mixed with chopped hard-boiled eggs, mushrooms, spring onions, butter-fried croutons, and - of course - a good vinaigrette dressing.
98K
5
54 min. April 8
th
2012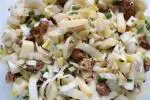 This starts out as a classic salad of shredded endives, but is pepped up with sliced spring onions, fried croutons and chunks of cheese.
17K
31 min. May 12
th
2019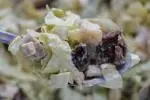 This salad takes its inspiration from the famous Caesar salad, but is simpler. The combination of chicken with croutons is a delicious way to use up leftovers.
6,620
32 min. February 10
th
2021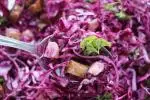 If you are used to the usual red cabbage salad (just cabbage in a vinaigrette), I hope you will be agreeably surprised with this more sophisticated version using herbs, diced Parmesan and fried croutons.
8,343
30 min. November 22
th
2020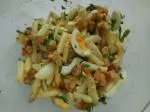 This spring salad combines warm white asparagus, hard-boiled eggs and small croutons, dressed with a tasty herb vinaigrette.
76K
4.3
48 min. May 21
th
2014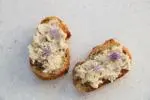 This recipe for mackerel rillettes (or potted mackerel) starts with poaching the fish. The flesh is then taken off the bones and forked into a seasoned mixture of butter, mustard, cream and lemon juice. In France this is traditionally eaten as an aperitif snack, served on small slices of toast.
21K
1 hour June 19
th
2019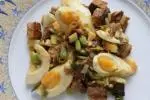 A "frichti" is a rough-and-ready dish, born of the French bistro tradition, that you can throw together with what you have to hand. This version mixes leeks with hard-boiled eggs, cream and ham.
1,374
40 min. September 26
th
2021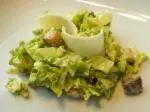 Ceasar salad is a classic of North American cuisine. It consists of lettuce served with croutons and the famous Caesar dressing. Here's my own version.
79K
4.5
37 min. November 25
th
2012