List of recipes using "Alcohol":
3 recipes

In this recipe, the lobster are cooked first in a court bouillon (stock), then the flesh is removed and cut into small pieces before being cooked with the cream and alcohol. The dish is browned in the oven to finish.
38,023 1
4.7/5 for 18 ratings 35 min.

Some cocktails recipe.
9,330
5/5 for 10 ratings 5 min.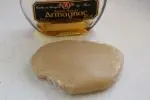 Almost the same as plain marzipan, but this almond paste is flavoured with a hint of Armagnac or Cognac.
4,135 9 min.