List of recipes using "Confectionner\'s custard":
10 recipes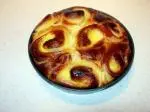 "Chinese" - what a strange name for this cake! A kind of brioche, filled with confectioner's custard (crème pâtissière) which can be decorated with fondant icing.
94,175 2
4.7/5 for 13 ratings 5 hours 29 min.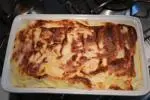 This "Marie-Antoinette" clafoutis is a lighter version of the traditional fruit-in-batter baked dessert, almost a soufflé, with apples and lemon. The apples are sautéed in butter and Calvados, then combined with a lemon-flavoured confectioner's custard, lightened with raw meringue. This mixture is...
4,580
4.9/5 for 21 ratings 1 hour 17 min.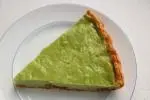 The filling of this pistachio flan with almonds and apricots contrasts with crisp case, made with puff pastry, rather than the more usual shortcrust pastry.
7,530
4.3/5 for 15 ratings 1 hour 37 min.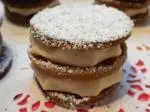 These dainty and delicious mini millefeuilles have layers of puff pastry filled with lemon confectioner's custard (pastry cream). They are a bit tricky because they are quite fragile and do not keep well once assembled. But freshly made, they are a true delight.
4,296 2 hours 22 min.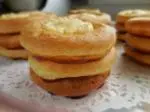 This delicious little cake's charming French name means "well of love". It is made up of layers of puff and choux pastry, assembled with a light caramel and filled with vanilla confectioner's custard.
27,682
4.4/5 for 16 ratings 1 hour 43 min.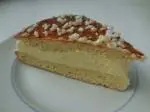 This famous dessert from St Tropez is more of a cake than a tart. The sugar-sprinkled brioche layers are sandwiched together with a rich vanilla filling which is a mixture of confectioner's custard and whipped cream.
21,525
3.8/5 for 17 ratings 3 hours 34 min.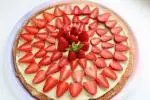 This elegant French dessert is not quite a tart. The base is a circle of puff pastry baked and caramelized, then topped when cold with a thin layer of lime-flavoured confectioner's custard and beautiful fresh strawberries.
5,716
3.8/5 for 11 ratings 43 min.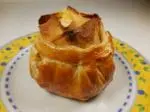 This dessert, named after a small town in Normandy, consists of a pear filled with confectioner's custard (French pastry cream), which is wrapped in a pancake and puff pastry, then baked. The "douillon" part of the name comes from a warm coat, the "douillette", of former times.
13,456
4.3/5 for 19 ratings 1 hour 3 min.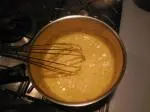 For this strongly apple-flavoured version of confectioner's custard (crème pâtissière, or french pastry cream), apple juice is used instead of milk and the quantity of sugar is reduced.
14,152
4.6/5 for 11 ratings 21 min.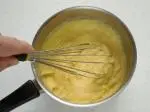 This recipe is for a confectioner's custard with a difference: it's a little less sweet than the classic confectioner's custard (crème pâtissière, or french pastry cream) and has double lemon flavour, using both zest and juice, for plenty of tangy lemon taste. It's the perfect filling for lemon...
14,096
4.4/5 for 5 ratings 23 min.