List of recipes using "Omelette":
12 recipes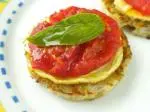 These Italian toasts are slices of fried bread with pesto, omelette and cooked tomatoes, garnished with a basil leaf.
21,120 1
4/5 for 20 ratings 49 min.

As an appetiser or starter, little thick soft omelettes, with diced tomato, courgette and smoked ham.
66,367
4/5 for 1 ratings 1 hour 10 min.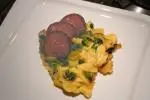 This quick French way of cooking eggs is similar to an omelette, but with the egg simply drawn in towards the centre during the brief cooking. The eggs here are cooked with sautéed leeks and served with delicious morteau sausage "crisps".
3,169
4.3/5 for 15 ratings 44 min.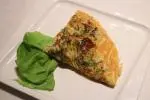 A classic, peasant-style omelette with fried bacon bits and blanched green cabbage.
4,285
4/5 for 17 ratings 50 min.

Small spears of green asparagus steamed and sliced, served with grated Parmesan in the middle of an omelette.
22,500
3.8/5 for 17 ratings 33 min.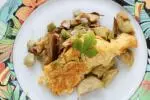 This French "broken" omelette is not neatly folded like a classic omelette. There is more filling than egg: mushrooms and artichokes here, pan-fried with spring onions. It can be served flat, like a Spanish omelette, but I prefer the more original broken look.
5,750
4.1/5 for 16 ratings 54 min.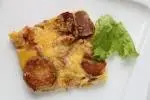 For this omelette with a difference, we'll fry sliced potatoes, bacon (lardons) and onions, then pour the beaten eggs over and finish cooking everything together in the oven. The French sometimes call this an "Omelette of Moyenmoutier" after a village in the Vosges.
3,519
4.6/5 for 14 ratings 52 min.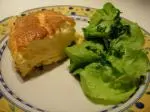 Halfway between an omelette and a soufflé, this quick recipe give a light and delicious result. The secret is mainly in the two cooking methods: frying pan, then oven.
82,288
4.7/5 for 18 ratings 51 min.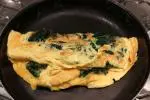 An ultra-simple but delicious omelette recipe. The beaten eggs are poured over spinach that has already been cooked with shallots.
5,953
4.6/5 for 19 ratings 17 min.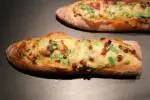 This baguette is "stuffed", rather than merely filled: hollowed out and refilled with a tasty mix of sautéed onions, fried bacon bits and eggs, before browning in the oven. A useful way to use up a leftover baguette, even if it is already going dry. It makes a great dish that children love, and...
516 52 min.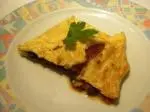 Tomato omelette is a great classic of Provençale cuisine. This is my personal version with mushrooms.
23,450
4.6/5 for 14 ratings 1 hour 1 min.

Tortilla is a recipe from Spain, which can be eat hot or cold. It's a kind of omelette, with several ingredients, in this recipe potatoes, onion and smoked ham. Ingredients are cooked first, then mixed with egg, to make a tortilla which is cooked on both sides.
76,185 3
4/5 for 2 ratings 1 hour 17 min.