List of recipes using "Broccoli":
8 recipes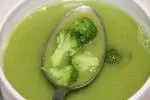 This soup is simple and light but tasty, made with a delicate vegetable stock and broccoli.
7,972
4.6/5 for 14 ratings 29 min.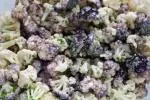 Towards the end of winter you can sometimes find purple cauliflower, as well as the usual white sort, or purple-headed broccoli (calabrese). Mix the varieties for a delicious, crunchy two-tone salad.
1,609 18 min.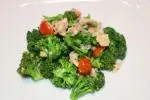 In this recipe, the broccoli is served only just cooked and still warm with tuna, chopped shallot and cherry tomatoes in a good vinaigrette dressing.
6,764
4/5 for 2 ratings 22 min.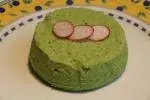 This light and delicious savoury custard with broccoli is perfect to serve with meat or fish in a sauce.
7,945
4/5 for 1 ratings 44 min.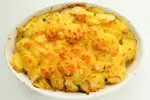 A very simple recipe: a layer of potatoes, a layer of broccoli, bechamel sauce and grated cheese.
39,733
3.8/5 for 17 ratings 2 hours 1 min.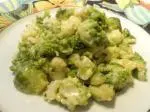 Four kinds of brassicas (Brussels sprouts, cauliflower, romanesco and broccoli), blanched separately, then combined to finish with cream and chopped parsley.
34,017
4.6/5 for 14 ratings 2 hours 41 min.

Broccoli cooked until just tender, quickly sautéd in a little olive oil with shallot and ribbons of ham.
60,734 1
4.3/5 for 15 ratings 49 min.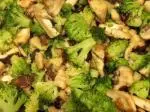 Blanched broccoli sautéed quickly with thin slices of fried chicken.
23,024
4.5/5 for 19 ratings 1 hour 4 min.