List of recipes using "Hamburger":
4 recipes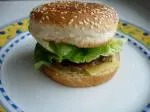 Hamburgers don't have to be the greasy flabby things you find in fast-food outlets, well-made they can be excellent. It's a very convivial recipe as everything goes on the table, and everyone assembles their own burger according to personal taste.
86,283
4.8/5 for 20 ratings 33 min.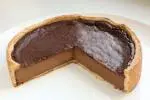 Much better, softer, in particular not as sticky as the commercial buns, these buns are ideal for hamburgers, but you can also use them for sandwiches.
83,737
4.3/5 for 12 ratings 2 hours 48 min.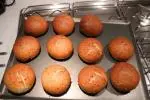 These baps are perfect burger buns: soft, with a distinctive mustard flavour and the added crunchy texture of toasted mustard seeds. These will give your burgers a gentle hint of mustard, but without the normal "bite".
3,099 2 4 hours 45 min.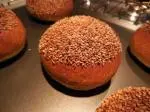 This new recipe shows you how to make hamburger buns that are almost brioche style without being sweet.
12,203
4/5 for 12 ratings 3 hours 59 min.