List of recipes using "Hamburger":
4 recipes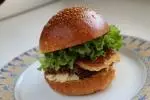 Time for a fresh take on burgers with this Mexican-inspired version. The beef patty is pepped up with chilli spices and partnered with a plainer patty made with red kidney beans.
11K
1 hour 2 min. May 12
th
2021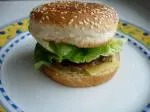 Hamburgers don't have to be the greasy flabby things you find in fast-food outlets, well-made they can be excellent. It's a very convivial recipe as everything goes on the table, and everyone assembles their own burger according to personal taste.
394K
4.8
33 min. December 6
th
2015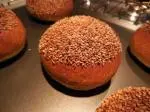 This recipe shows you how to make hamburger buns that are almost brioche style without being sweet.
123K
4
3 hours 59 min. April 11
th
2020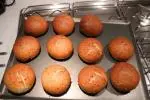 These baps are perfect burger buns: soft, with a distinctive mustard flavour and the added crunchy texture of toasted mustard seeds. These will give your burgers a gentle hint of mustard, but without the normal "bite".
23K
2 4 hours 45 min. December 30
th
2019