List of recipes using "Poultry":
3 recipes

Perhaps simplest recipe on this site, but what a result! The idea is to cook the bird, without fat, at low temperature, covered, and for a long time. In this way, the poultry cooks so as to be almost like a "confit": soft and very tasty. The effect is more spectacular with duck because it is a...
88,174
3.8/5 for 17 ratings 5 hours 12 min.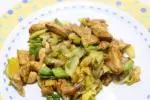 Chunks of chicken marinated in a mixture of soy sauce, vinegar and spices, then sautéed with diagonally cut leeks cooked separately. A simple, healthy recipe with a spicy kick.
3,491
5/5 for 1 ratings 1 hour 53 min.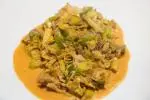 Indian flavours pep up this recipe. The leeks are cooked then mixed with chunks of chicken (a good way to use leftovers from a previous meal) and simmered with tandoori spices.
2,732 54 min.