List of recipes using "Summer":
9 recipes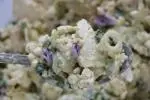 In this really simple recipe, crunchy cauliflower is balanced with the soft texture of avocado and tender morsels of diced chicken. A delicious summer salad.
460 28 min.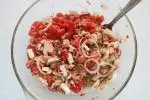 A hint of Crete in the flavours of this salad, with a mix of crunchy and soft textures: diced tomatoes, sliced spring onions, feta and tuna.
2,776 49 min.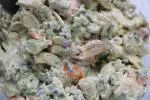 A bold salad idea that brings together 3 ingredients which rarely end up on the same plate: cucumber, avocado and mussels, in a rémoulade dressing.
330 21 min.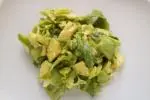 This salad is all green and fresh, with diced avocado, lettuce, spring onion and the softness of pieces of hard-boiled egg. The flavour is brought out further with a lime and olive-oil dressing, pepped up with a touch of Tabasco.
3,188 27 min.

This salad is a good way to enjoy tomatoes at the height of their season, and all the different varieties available with their different flavours and colours.
23,768
4.3/5 for 15 ratings 1 hour 3 min.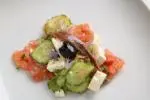 The port of Souda in Crete is the inspiration for this colourful salad, combining cucumber and tomatoes with feta cheese. This salad is best served cold from the fridge, perfect for a hot summer's day.
1,508 58 min.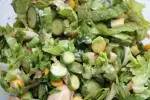 This salad is a way to make the most of the first baby courgettes (if you can get them). The crunchy little darlings are mixed with shredded lettuce, hard-boiled eggs, tinned tuna and diced cheese.
1,807 25 min.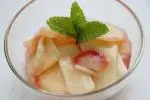 A simple fruit salad of white peaches bathed in mojito flavours: lime, rum and mint (with a delicate hint of vanilla).
273 39 min.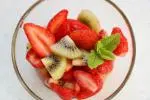 This is a simple recipe, but quite delicious. The flavours and colours of strawberries and kiwis combine to create a refreshing and colourful summer fruit salad.
445 17 min.