List of recipes using "Vanilla ice-cream":
4 recipes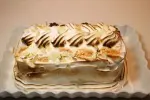 The name may be odd, but Baked Alaska is an elegant dessert. The core of this version is a "sandwich" of vanilla ice cream and blackcurrant sorbet between 2 layers of sponge soaked in rum-flavoured syrup. This is then covered in a layer of meringue and put in a very hot oven for just a few minutes...
6,369
4.3
6 hours 47 min.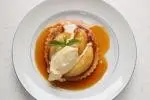 This is an elegant summer dessert: a thin base of puff pastry, topped with caramelized peach slices. For a delicious contrast of hot and cold, serve with the reduced caramel and citrus sauce poured over over hot and, at the last minute, a scoop of vanilla ice cream on top, .
7,593
3.8
1 hour 15 min.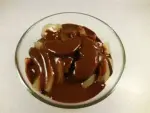 Poire Belle Hélène is a fairly simple cold dessert. The pears are poached in a vanilla-flavoured syrup, then served on top of vanilla ice cream with hot chocolate sauce poured over.
14K
4.7
1 hour 46 min.

Small choux pastry puffs, filled with vanilla ice cream and topped with a rich smooth chocolate sauce.
91K
1
4.5
1 hour 35 min.