List of recipes using "Veal":
8 recipes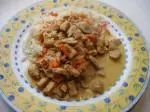 Blanquette is a classic dish of French family cooking, but can also be found in bistros. Veal is cooked slowly, and the sauce is thickened with a mixture of egg yolks and cream. I have set out a rather special way of making it.
81,029
4.4/5 for 10 ratings 2 hours 49 min.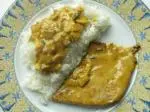 Escalopes of veal, mushrooms and a cream sauce.
49,048
4.6/5 for 14 ratings 1 hour 3 min.

Involtinis are small rolls of meat, usually veal, and cheese. Here is my version.
80,210
4.4/5 for 11 ratings 2 hours 51 min.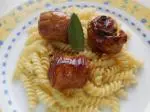 Saltimbocca literally means "jumps into the mouth" in Italian. These delicious little meat rolls, made with veal, ham and sage, will do just that!
8,756
4.9/5 for 20 ratings 40 min.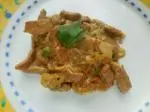 This sauté combines small chunks of veal with spring onions in a white-wine sauce with just a dash of cream.
13,378
4.6/5 for 14 ratings 56 min.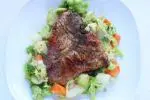 The veal chop in this recipe is cooked in two stages: flash fried first to brown it all over, then gently roasted in the oven. The chop is served with an assortment of vegetables, first lightly boiled, then reheated in the "jus" (cooking juices).
6,554
5/5 for 1 ratings 2 hours 27 min.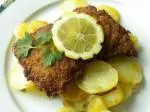 A Wiener schnitzel is a thin veal cutlet (escalope) coated in breadcrumbs.
27,702
4.1/5 for 16 ratings 1 hour 20 min.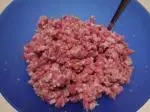 Sausagemeat is a mixture of fatty pork (belly bacon here) with leaner meat, all minced and seasoned. In this version I have used veal as the additional meat.
10,213
3.8/5 for 17 ratings 15 min.