List of recipes using "Belgium":
4 recipes
List of recipes using "Belgium"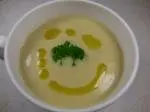 For this soup, the endives (chicory) and onions are cooked gently together first before adding the vegetable stock and beer. The endives and beer give the soup a hint of bitterness and a unique flavour.
65K
4.3
1 hour 5 min. January 12
th
2014

Carbonnade is a dish that comes from Belgium and the north of France. Large pieces of beef are slowly simmered in beer with carrots and onions. Here's a personal version.
187K
1
4
2 hours 44 min. November 13
th
2011

Liège waffles have a very distinctive texture: quite dense with the crunch of sugar crystals. They also have a characteristic form: round and fairly small. Then there's that special flavour that comes with the delicious light caramel crust.
233K
5
1 hour 55 min. July 12
th
2011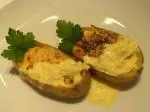 This recipe, originally from Belgium, consists of baked potatoes which are hollowed out and filled with fried prawns. A cream and white wine sauce is then poured over the potatoes before returning them to the oven.
99K
3.8
1 hour 49 min. January 14
th
2016