List of recipes using "Chard":
2 recipes

For this dish only the green part of the chard is used. The blanched leaves are rolled around grilled salmon portions. The rolls are served coated with a savoury lemon sabayon, or the sauce of your choice.
50,047
3.8/5 for 12 ratings 1 hour 21 min.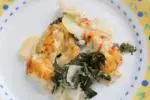 All of the chard leaves (greens and stalk) will be used in this recipe. They are first boiled, then layered with sliced potatoes and topped with a bechamel sauce.
424 1 hour 6 min.