List of recipes using "Grilled bacon":
3 recipes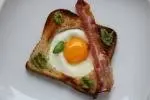 This is a novel way to cook an egg in the middle of a slice of fried bread. For a continental twist to the English breakfast, it comes with a slice of grilled bacon and a little pesto. The tricky part (explained in full in the recipe) is to cook the egg white through but keep the yolk runny.
9,078 1
5/5 for 1 ratings 29 min.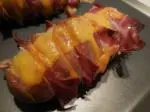 These "wallets" are potatoes boiled in their skins and sliced part-way through after cooking. The slots are filled with slices of cheese and grilled bacon and the potatoes are then baked for a few minutes the oven.
10,683
4.1/5 for 10 ratings 1 hour 4 min.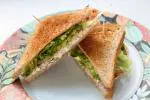 This is a rapid club sandwich recipe that combines the taste of the sea (sardines in oil) with the terrestrial flavour of fried bacon. The two are accompanied by a layer of cream cheese with herbs.
3,581
4.3/5 for 12 ratings 24 min.