List of recipes using "Swiss":
2 recipes
List of recipes using "Swiss"

Probably a swiss recipe originally, but also known in the French region of Franche-comté. This version is more sophisticated.
228K
4.2
40 min. February 21
th
2011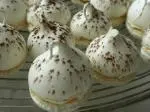 Swiss meringues are a variant of the classic French meringue. The eggs whites and sugar are beaten together in a bain-marie at first, then beaten stiff as normal. This makes for a firmer meringue which can be used to make small items or figures to decorate cakes or ice creams (such as mushrooms,...
94K
3.8
1 hour 17 min. June 2
nd
2015