List of recipes using "Taste":
4 recipes

A little dessert that's rather long to make, but which will always impress your guests. Layered in a glass: a jellied red fruit coulis, a layer of pineapple charlotte cream, a layer of kiwi coulis, topped with a peeled clementine segment. It's "european" because it resembles the italian flag, and in...
71,258
5/5 for 1 ratings 2 hours 29 min.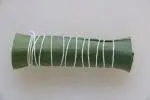 Used very frequently in French cuisine, a secret of French chefs, it adds flavour to a lot of recipes, and it's easy to prepare. The basic principle is to make a small bundle of herbs, bind them in green leek leaves and to tie it up, so that the whole thing can be removed and discarded easily after...
75,673
3.5/5 for 2 ratings 12 min.

The main problem with garlic, is that even a long while after eating it, you often still have the smell on your breath.
11,149 2
4.5/5 for 18 ratings

Vanilla pods are used in many recipes, but they need to treated in a particular way to be effective, detailed here.
72,181
4.5/5 for 4 ratings 34 min.