List of recipes using "Basil":
4 recipes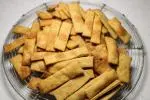 These are delicious little aperitif biscuits, really crisp and with the full-on flavour of pesto. They can be eaten on their own with dips, such as hot tomato or houmous.
5,242
4.1/5 for 18 ratings 1 hour 41 min.

Mussels and pasta cooked separately, then combined in a cream sauce made with the reduced mussel juices.
42,278
4.1/5 for 16 ratings 1 hour 40 min.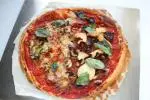 This pizza with a difference has a thin puff-pastry base instead the traditional dough. Apart from this small refinement, the basic elements you would expect are all there: tomato sauce, a variety of toppings and fresh basil leaves.
2,825 36 min.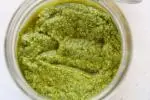 Pesto is an Italian sauce made from pine nuts, Parmesan and basil. It's very simple but quite delicious, and goes particularly well with pasta.
64,399 2
5/5 for 13 ratings 15 min.