List of recipes using "Ottolenghi":
6 recipes
List of recipes using "Ottolenghi"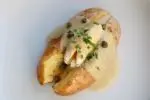 You will no doubt have baked potatoes the classic way, but here's a version inspired by Yotam Ottolenghi, served with a delicious tuna and caper sauce, and a poached egg.
15K
1 hour 16 min. September 27
th
2020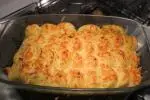 Gnocchi are a type of pasta made with flour and potatoes or, as here, semolina. For this recipe, the gnocchi are made quite large and cooked "au gratin", topped with grated cheese.
22K
2 hours 59 min. July 29
th
2020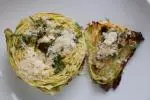 It's not always easy to find new and appealing ways to cook cabbage, but this recipe – which is fairly simple – will give you a really delicious roast cabbage, flavoured with lemon and tarragon.
19K
5
53 min. August 26
th
2020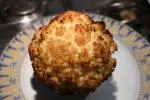 This is how Yotam Ottolenghi does roasted cauliflower: whole, served with a green parsley tahini sauce.
23K
2 hours 32 min. April 19
th
2020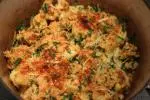 This delicious twist on cauliflower cheese is cooked in 3 stages: the cauliflower is steamed on its own before being fried with the spices. It is then topped with cheese and breadcrumbs, and browned in the oven.
22K
1 hour 1 min. May 24
th
2020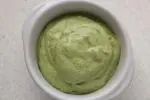 This greeen sauce with tahini and parsley is an excellent accompaniment for lots of vegetables (raw or cooked) and also goes well with poultry.
24K
9 min. April 8
th
2020