List of recipes using "Coloured":
3 recipes

This salad is a good way to enjoy tomatoes at the height of their season, and all the different varieties available with their different flavours and colours.
23,492
4.3/5 for 15 ratings 1 hour 3 min.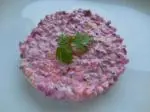 This amazing recipe from a great chef is surprisingly straightforward to make. You will need lots of different raw vegetables. These are diced really small, then bound with mayonnaise.
14,332
4.3/5 for 15 ratings 49 min.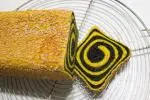 This amazing-looking loaf uses a basic sandwich bread recipe, but half the dough is coloured yellow with turmeric, the other half black with squid ink. The two colours are then rolled up together to give the spiral effect you can see in the photo. The outside is coated with sesame seeds. This...
2,823 4 hours 13 min.