List of recipes using "Choux pastry":
11 recipes
List of recipes using "Choux pastry"

Gougères are small cheese choux pastries, sometimes (like here) with bits of ham.
224K
1
3.8
56 min. February 21
th
2011

This might appear to be a straightforward recipe: choux pastry, chocolate confectioner's custard and fondant icing, but in practice it is quite technically tricky and all three stages need care to produce a perfect result. But don't let that discourage you; there are demonstration videos and I will...
275K
3
4.5
3 hours 52 min. February 6
th
2011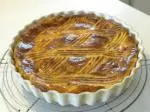 This galette is a classic Comtois dessert that resembles choux pastry (pâte à choux).
76K
4
46 min. January 20
th
2013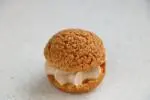 These mini choux puffs are topped with a layer of craquelin and filled with Mont-Blanc cream: a mixture of whipped cream and sweetened chestnut purée.
31K
1 hour 43 min. March 17
th
2019

The Paris-Brest is a famous French patisserie: a ring of choux pastry, scattered with flaked almonds and icing sugar and filled with a praline cream. The name comes from a historic cycle race between Paris and Brest (600 km or 372 miles), as the shape is like a bicycle wheel.
168K
4.6
2 hours 18 min. May 8
th
2011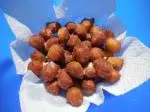 These small fritters are like mini doughnuts: they're simply made with choux pastry dough, then tossed in a little sugar. [Translator's note: their amusing French name literally means "nun's farts". So, maybe we'll leave it French...].
52K
4.1
45 min. June 18
th
2014

Small choux pastry puffs, filled with vanilla ice cream and topped with a rich smooth chocolate sauce.
289K
1
4.5
1 hour 35 min. October 13
th
2010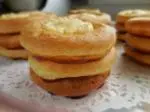 This delicious little cake's charming French name means "well of love". It is made up of layers of puff and choux pastry, assembled with a light caramel and filled with vanilla confectioner's custard.
89K
4.4
1 hour 43 min. August 23
th
2015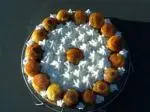 The Saint Honoré cake is a famous example of French patisserie. It consists of a puff pastry base surrounded by a ring of caramel-coated choux puffs and topped with whipped cream (Chantilly). It is a bit tricky to make, but this recipe gives you all the hints you need.
100K
4.7
2 hours 51 min. April 14
th
2013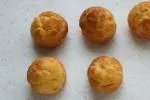 Choux pastry is used for making profiteroles, eclairs and other small pastries.
496K
4.5
1 hour 4 min. February 13
th
2022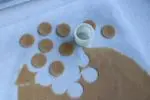 This sweet cracker dough ("craquelin" in French) is a very simple mixture: equal parts of flour, butter and light brown sugar. It is simlilar to a shortbread dough and can be rolled out very thinly and cut into any shape as desired. Craquelin is mostly used (though not exclusively) on top of choux...
66K
5
54 min. February 10
th
2019