List of recipes using "Choux pastry":
11 recipes

Gougères are small cheese choux pastries, sometimes (like here) with bits of ham.
70,028 1
3.8/5 for 17 ratings 56 min.

This might appear to be a straightforward recipe: choux pastry, chocolate confectioner's custard and fondant icing, but in practice it is quite technically tricky and all three stages need care to produce a perfect result.But don't let that discourage you; there are demonstration videos and I will...
66,007 3
4.5/5 for 2 ratings 3 hours 52 min.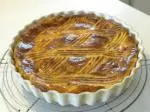 This galette is a classic Comtois dessert that resembles choux pastry (pâte à choux).
23,481
4/5 for 20 ratings 46 min.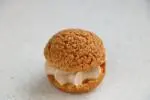 These mini choux puffs are topped with a layer of craquelin and filled with Mont-Blanc cream: a mixture of whipped cream and sweetened chestnut purée.
4,956 1 hour 43 min.

The Paris-Brest is a famous French patisserie: a ring of choux pastry, scattered with flaked almonds and icing sugar and filled with a praline cream. The name comes from a historic cycle race between Paris and Brest (600 km or 372 miles), as the shape is like a bicycle wheel.
51,074
4.6/5 for 14 ratings 2 hours 18 min.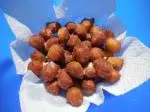 These small fritters are like mini doughnuts: they're simply made with choux pastry dough, then tossed in a little sugar. [Translator's note: their amusing French name literally means "nun's farts". So, maybe we'll leave it French...].
12,590
4.1/5 for 16 ratings 45 min.

Small choux pastry puffs, filled with vanilla ice cream and topped with a rich smooth chocolate sauce.
90,768 1
4.5/5 for 2 ratings 1 hour 35 min.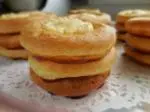 This delicious little cake's charming French name means "well of love". It is made up of layers of puff and choux pastry, assembled with a light caramel and filled with vanilla confectioner's custard.
29,344
4.4/5 for 16 ratings 1 hour 43 min.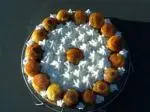 The Saint Honoré cake is a famous example of French patisserie. It consists of a puff pastry base surrounded by a ring of caramel-coated choux puffs and topped with whipped cream (Chantilly). It is a bit tricky to make, but this recipe gives you all the hints you need.
31,492
4.7/5 for 15 ratings 2 hours 51 min.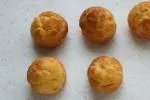 Choux pastry is used for making profiteroles, eclairs and other small pastries.
144,980
4.5/5 for 4 ratings 1 hour 4 min.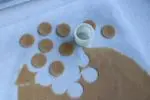 This sweet cracker dough ("craquelin" in French) is a very simple mixture: equal parts of flour, butter and light brown sugar. It is simlilar to a shortbread dough and can be rolled out very thinly and cut into any shape as desired. Craquelin is mostly used (though not exclusively) on top of choux...
3,998
5/5 for 1 ratings 54 min.