List of recipes using "Civet":
2 recipes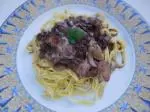 Rabbit civet is a classic dish of French cuisine. The word "civet" comes from "cive", an old word for onion. These days, the name refers to chunks of meat, marinated then cooked slowly in red wine with bacon, mushrooms and onions. This tasty stew or casserole, with its very tender meat, is like my...
12,597
4/5 for 1 ratings 15 hours 20 min.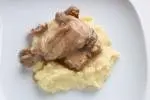 In French cooking, "à la normande" means there are apples involved, as Normandy is famous for them. In this twist on the classic civet, the rabbit meat is cooked on the bone in cider, after marinating overnight. The sauce is made at the end with the cooking juices and cream.
6,353
4.6/5 for 14 ratings 15 hours 3 min.