List of recipes using "Fresh tuna":
2 recipes
List of recipes using "Fresh tuna"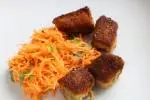 In this recipe chunky cubes of fresh tuna are marinated, then double-dipped to coat them before cooking: first in curry spices, then breadcrumbs. The cubes of fish are pan-fried to a crispy coating on the outside but stay tender in the middle.
38K
4.9
2 hours 40 min. June 22
th
2016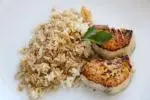 This is a very simple way to prepare and cook tuna - a fish that tends to dry out very quickly if you are not careful about how you cook it. In this recipe the tuna medallions are marinated in a mixture of olive oil, lemon and lime, before being seared briefly on both sides. Serve with rice cooked...
25K
4.8
2 hours 18 min. July 23
th
2017