List of recipes using "Petit-salé":
1 recipes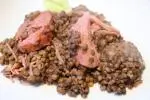 Pork belly with lentils is a typical French bistro dish. In principal, it is a mixture of different cuts of pork, usually salt-cured, cooked slowly until "confit" and meltingly tender, served with lentils cooked in stock. This dish takes a good while to prepare, but it's a real treat! It reheats...
7,405
4/5 for 18 ratings 3 hours 19 min.