List of recipes using "Asian":
3 recipes
List of recipes using "Asian"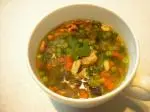 This delicious soup is a flavoursome mix of herbs, mushrooms, soya noodles and small diced vegetables briefly cooked in vegetable stock. It takes a while to make and there are lots of ingredients, but the result is worth it.
86K
2
4.5
1 hour 15 min. April 6
th
2017

Only "chinese style", not a true chinese recipe.
275K
4
1 hour 38 min. February 28
th
2012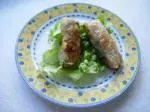 Nems are probably the best known Far Eastern dish in France. These small crispy rolls can be made in different flavours: chicken, crab, pork, etc. Making your own is not very complicated, the only difficulty is in the rolling stage. You will find in this recipe full details on how to successfully...
459K
3.8
2 hours 21 min. April 6
th
2017