List of recipes using "Balls":
4 recipes

Meat balls in a tasty tomato sauce with herbs and white wine.
57,349
5/5 for 13 ratings 30 min.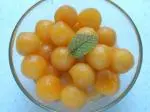 This recipe is a new twist on the classic melon with port: melon balls served on a bed of port sorbet.
20,041
4.9/5 for 18 ratings 49 min.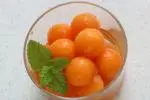 It is tempting to call this a melon Mojito: little balls of ripe melon in a light Mojito-flavoured syrup with mint, rum and lime.
9,113
4.5/5 for 11 ratings 45 min.

Used in several recipes like couscous, meatballs can also be a dish on thier own. The secret of this recipe is in the mix of two different kinds of meat with a little Parmesan. Note that it's a dish children always love.
71,945 2
4.7/5 for 9 ratings 43 min.