List of recipes using "Crumble":
8 recipes
List of recipes using "Crumble"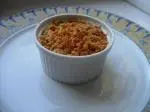 A small ramekin filled with sausage sandwiched between two layers of cooked mushrooms, topped with a savoury crumble made with cancoillotte (a cheese typical of eastern France). All the French region of Franche-comté is in this recipe: Morteau sausage, cancoillotte cheese, and Jura white wine.
221K
2
4.6
3 hours April 6
th
2017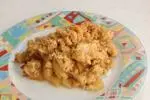 The classic apple crumble is given a Canadian twist here: rolled oats in the topping and a drizzle of maple syrup over the apples. These two small changes make the flavour very distinctive and very, well... Canadian.
30K
3
1 hour 25 min. August 4
th
2019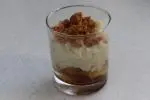 This recipe combines a classic rice pudding with caramelized apples and a crunchy topping inspired by crumble. Served in glasses, this makes an original and delicious dessert.
3,498
1 hour 9 min. November 28
th
2021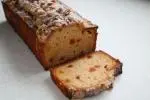 A very elegant cake topped with a sprinkling of hazelnut crumble, and with a double helping of orange flavour from chopped candied peel and the orange syrup soaked into the cake after cooking. The recipe is rather sophisticated, inspired by those used by pastry cooks at the INBP. It is a bit...
23K
5
2 hours 15 min. January 23
th
2019

This is a glass of pannacotta, with a layer of blackcurrent coulis, and a crunchy almond crumble scatterd on top.
220K
3.8
1 hour 22 min. February 21
th
2011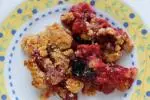 Plums and hazelnuts always go really well together, as you'll find in this late-summer crumble.
3,663
1 hour 16 min. September 15
th
2021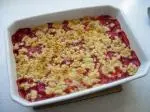 A three-layer crumble: a layer of stewed rhubarb, then strawberries and a crumble topping. You'll see that the flavour of rhubarb goes very well with strawberries.
126K
5
1 hour 40 min. May 18
th
2019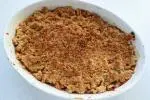 You are no doubt familiar with fruit crumble, the home-cooking classic. Here's how they do it in the the Austrian Tyrol region: with apples, raisins and rolled oats.
4,292
1 hour 26 min. October 31
th
2021