List of recipes using "Hot box":
2 recipes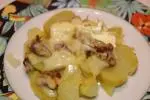 Camembert can be melted in the oven, like this hot box cheese, but here it has the added delight of toasted chopped walnuts, served on a bed of hot potatoes.
6,850
3.8/5 for 17 ratings 56 min.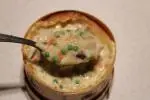 The classic hot box method is a delicious way to serve Mont d'Or cheese. For a more original twist, this recipe adds mixed vegetables. The cheese is baked in the oven as usual, but filled with the diced vegetables and mushrooms.
4,196
3.8/5 for 17 ratings 58 min.