List of recipes using "Sardines in oil":
1 recipes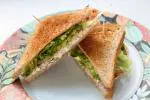 This is a rapid club sandwich recipe that combines the taste of the sea (sardines in oil) with the terrestrial flavour of fried bacon. The two are accompanied by a layer of cream cheese with herbs.
2,979
4.3/5 for 12 ratings 24 min.