List of recipes using "Duchess potatoes":
3 recipes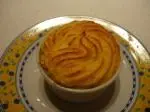 Duchess potatoes are a mix of mashed potato and egg yolks, cooked in the oven, in a decorative shape and delicious. In this recipe they top a ramekin containing a layer of mashed potato, cooked leek, and thinly sliced bacon.
87,444 2
4.6/5 for 14 ratings 2 hours 5 min.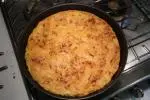 This potato "cake" is like a big savoury pancake of duchess potatoes (mashed potato with egg yolks), mixed with strips of fried ham, chives and spring onions. The galette is cooked in the oven in a tin and cut into portions for serving. This is delicious on its own or with a good green salad on the...
2,636 1 hour 13 min.

The duchess potatoes are poached in a roll before being sliced and fried. They are served in alternate layers with slices of sausage, also cooked in two stages (boiled then fried), then topped with a fondue of Mont d'Or cheese.
69,539
3.9/5 for 11 ratings 2 hours 13 min.